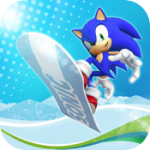 Late last month
we got a sneak peek
at Sega's
Sonic at the Olympic Winter Games
[
App Store
] and its official release this afternoon seems to be very similar, if not the exact same game we played in December. You can compete as Sonic or any of his included friends in four events: Skeleton, curling, figure skating, and snowboard cross. However, with only four events the game feels like a stripped down version of
Mario and Sonic at the Olympic Winter Games
for the Nintendo DS, which not only has many more events to compete in, but also Nintendo characters.
Skeleton is a basic tilt-based pipe racing game of sorts where you pick up rings and hit areas on the track to gain speed. Figure skating plays a lot like a very slow-paced version of Elite Beat Agents with areas to tap and drag along with the music. Snowboard cross is a very basic snowboarding game, that also feels way too slow.
The best event in the entire game is curling. From our preview:

Curling is a team game where two teams of four players take turns sliding polished stones down a stretch of ice towards a target. Two sweepers walk in front of the stone sweeping the ice to change its direction and speed. It seems that curling has gained a curious amount of popularity in recent winter games, but if you haven't heard of it before I recommend reading the Wikipedia entry, as it downright crazy how complicated such a seemingly simple game can be.
The implementation of curling is really quite good, and it works well with the touch screen controls to control your throw as well as the sweepers. Curling can be seen in the following gameplay video:
Overall, Sonic at the Olympic Winter Games does little more than remind me of how great any game with Sonic in the title used to be, and how bad recent Sonic games have been. If you're not interested in curling, there really isn't much reason to pick this game up, as the other three events aren't much fun at all.
App Store Link: Sonic at the Olympic Winter Games, $4.99