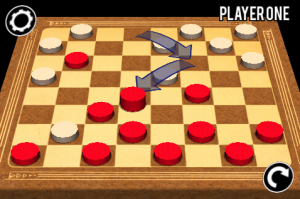 While we were at WWDC 2009, Koduco showed us their then-upcoming, free iPhone checkers title 3D Checkers [App Store]. The game has since appeared in the App Store.
The developer claims that 3D Checkers is the best checkers game available for the iPhone. And, well…it's free.
The game features drag-and-drop gameplay, two play modes (player vs. player and player vs. computer), two AI difficulty levels, and two board designs. Indeed, checkers is not the most hardcore of games, but anyone who enjoys a little of the red and black (or white, in this case) would do well to grab this one.
App Store Link: 3D Checkers, Free