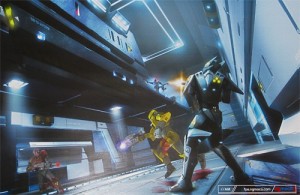 Ngmoco has released a trailer for their upcoming first person shooter formerly known as LiveFire. The new name for the game appears to be "KillTest" based on the trailer video.
The video first appeared on GameTrailers.com and has since been mirrored onto YouTube (embedded below). Eli recently had hands on time with the ambitious deathmatch shooter:

The controls for LiveFire are so intuitive I had already figured out how everything worked before they even started explaining it to me. They call it a "touch anywhere" control scheme, where the right half of the screen regardless of where you're touching controls your aiming and the left half controls your movement. Since they're working with a limited set of input methods, firing is handled automatically. If you get someone in your crosshairs, you automatically start shooting.
Firing can also be triggered manually be tapping on the reticle.
The trailer video shows off the new look, maps and weapons of the game and emphasizes the ability to play over 3G or Wi-Fi.
The game is due for release this summer.