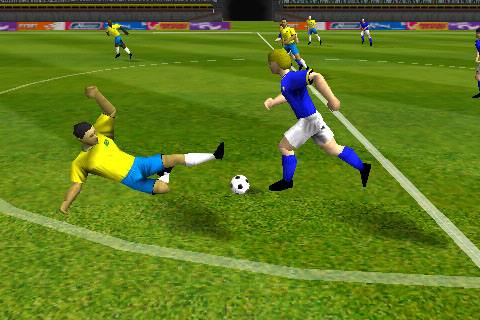 Football (U.S. Soccer) fans should be pleased to hear that mobile developer Exient is bringing their sport gaming expertise to the iPhone with X2 Football 2009. Exient has been responsible for a number of high profile DS titles including FIFA 09, Madden NFL 09, and PSP/PS2 Tiger Woods PGA Tour 09.
Exient sent us this gallery of screenshots (embedded below) while Pocket Gamer managed to get some hands on time with the upcoming title.

The most notable thing when you first pick up the game is the controls, which consist of an onscreen analogue joypad for movement and passing, and three buttons: pass, shoot and through ball. Helping you understand what you're doing is an arrow that shows where you're going to pass the ball, or where your player is going to run to.
Responding to the analog nature of the touch screen's controls, Exient has adjusted the game design to accommodate it with player animations to reflect the non-digital controls.
In balancing the cost of licensing, Exient has chosen not to take on that additional cost for this first release. Realistically, they are looking to build up their reputation on the iPhone side before pursing these expensive deals.
The game is awaiting approval and should appear soon. No pricing has been announced.