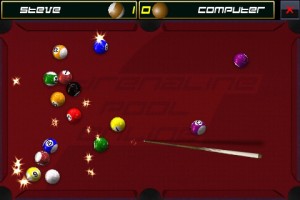 Eurocenter recently released the first iPhone game that supports in game voice chat: Adrenaline Pool 2 [App Store]. The $2.99 game is actually an entirely separate version from their existing game called Adrenaline Pool Online. Voice chat is a new 3.0 firmware-specific feature.
The core game is a rather straightforward top-down pool game that offers online head-to-head multiplayer.
We tested the game briefly, mostly focusing on the Voice-chat capabilities which seemed to work as advertised. The voice quality was a bit inconsistent in our tests over Wi-Fi, however. We're not sure if head-to-head pool is really a game you want to be voice chatting with your opponent with, but it's an interesting demo of what's possible in the 3.0 firmware. And for those lonely souls out there, they do offer an option to preferentially match up with girls.
Here's a demo of the voice chat:
I'd suggest trying out the Lite version to see if you actually enjoy the game itself before upgrading… that is, unless you just really have an itch to voice-chat with strangers.
App Store Link: Adrenaline Pool 2 (voice chat), $2.99, Adrenaline Pool Lite, Free